FWR COVID-9 PROCEDURES
Dear Event-Lovers, Clients and Friends, As we all know, the events industry has been hit hard by the recent outbreak of coronavirus and it's been heartbreaking to see the effect on our clients, team members, family and friends. We want you to rest assured that FWR Rental Haus is taking the necessary precautionary measures to help prevent the spread of the virus. As states, cities and businesses start to re-open, we are here to make your gatherings, events and celebrations happen, in a safe and more streamlined way.

We have implemented a number of additional safety and sanitation procedures for our showroom, offices and warehouse. The showroom remains open to you, but to ensure the health and safety of team members and visitors, it has moved to by appointment-only status. If coming to visit us in person isn't an option for you at the moment, we're more than happy to provide a virtual tour of our showroom and warehouse. Just ring your account manager and they'll be thrilled to see your face in virtual form. The majority of our team continues to work from home but are available via e-mail, phone and virtual calls.

We're complying by all CDC guidelines and enforcing mandatory temperature checks and PPE (masks, gloves, protective eyewear and hand sanitizer) that will be distributed to every employee and required to wear while in the warehouse, traveling to and from events and on site.

Please feel free to reach out if you have an upcoming event inquiry and/or any more questions on how FWR is making the necessary changes. Most of all, we can't wait to get back to what we love most — working with you!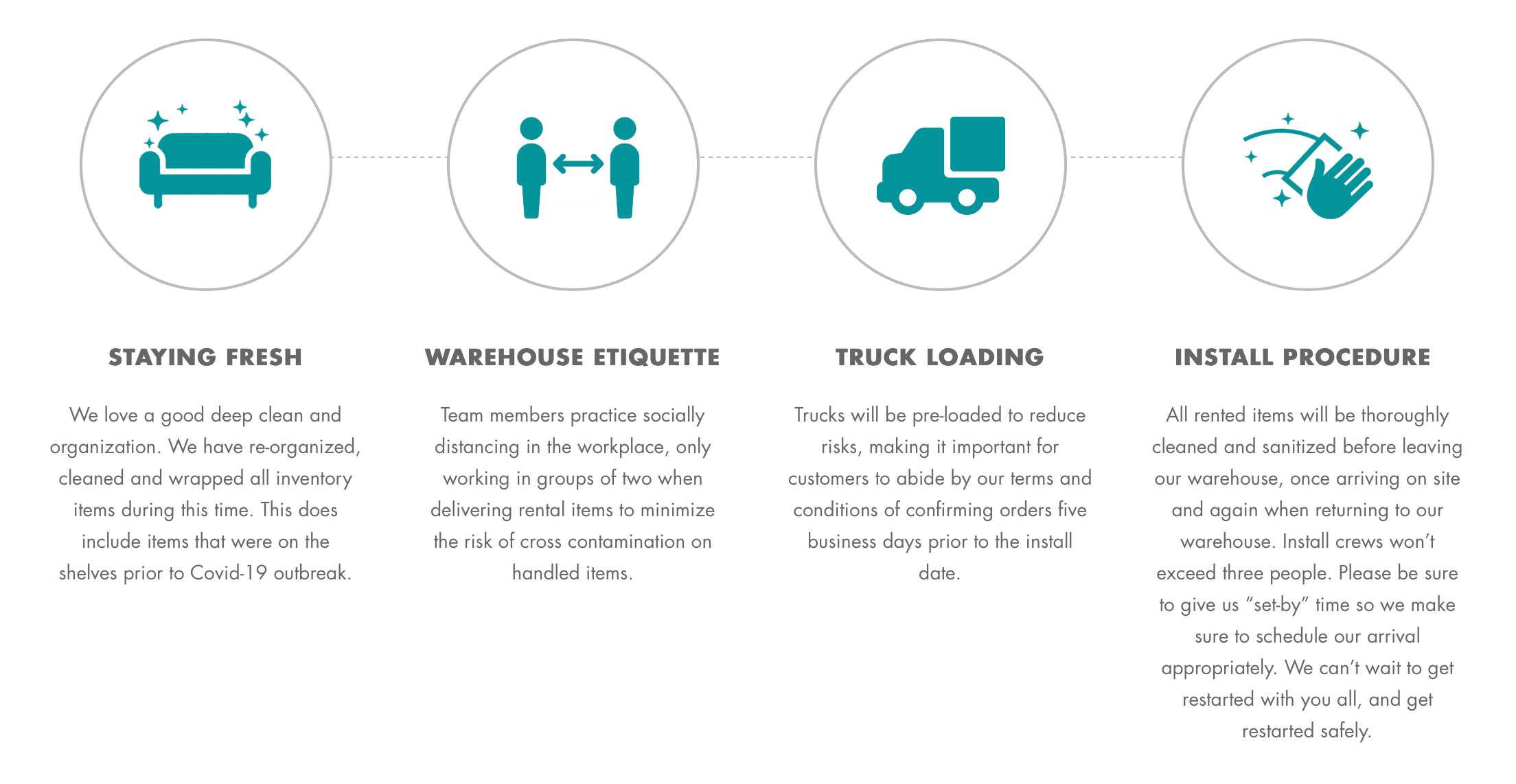 IN-Haus COVID-19 Compliance Officer (C19CO)
FWR Rental Haus now has a covid 19 compliance officer in house. As film, commercial, music video, and photo shoots begin to open up across the country, a need has emerged for a new crew position: COVID-19 Compliance Officer (C19CO). Shoots are often places where food is shared, people work closely with one another, and social distancing is often not possible. We have designed this non-union class to inform producers, coordinators, production assistants, and 1st ADs about on-set protocols related to COVID-19 as well as provide tools and resources for the new COVID-19 Compliance Officer (C19CO) position.